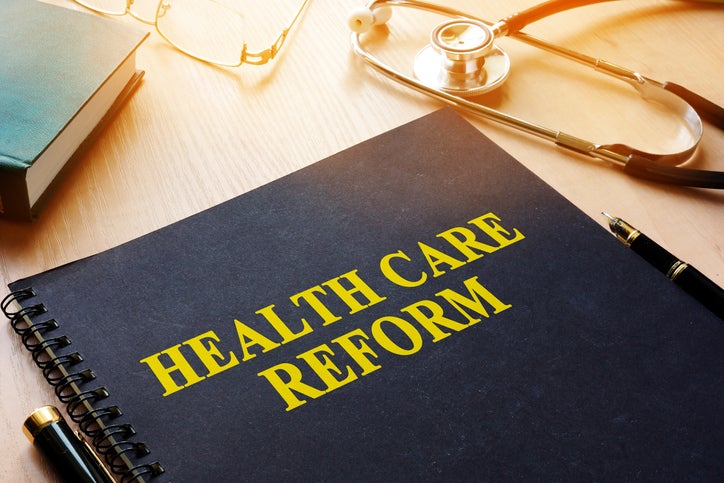 For the upcoming Health Policy Halloween, CHIR delved into the latest health policy research. In October, our studies focused on consumer experiences in enrolling for the Affordable Care Act (ACA) Marketplace, issues of health care affordability among both the insured and uninsured, and the effects of Medicaid expansion on coverage in heavily redlined areas.
Authors Kaye Pestaina, Cynthia Cox, and Rayna Wallace, in their report titled "Signing Up for Marketplace Coverage Remains a Challenge for Many Consumers" for KFF (October 30, 2023), analyzed findings obtained from KFF's 2023 Survey of Consumer Experience with Health Insurance. This nationally representative survey involved 3,065 adults, which included 880 Marketplace enrollees (both HealthCare.gov and state-based Marketplace (SBM) enrollees).
Findings
More than a third (35 percent) of individuals with Marketplace coverage reported difficulties in finding a plan that suited their needs, which is nearly twice the percentage of individuals with Medicaid (19 percent) or employer-sponsored coverage (17 percent) who faced similar challenges.

When assessing their plan options, 41 percent of Marketplace enrollees found it somewhat or very difficult to compare provider networks across plans, compared to 32 percent of individuals with employer-sponsored coverage and 27 percent of Medicaid enrollees.
Marketplace enrollees also had trouble comparing financial obligations across plan options: 31 percent struggled to compare copayments and deductibles, and 25 percent found it challenging to compare monthly premiums. Additionally, 32 percent reported difficulty in determining their eligibility for Marketplace financial assistance.

Upon selecting a plan, one in four (25 percent) Marketplace enrollees reported encountering difficulties in completing the Marketplace application or enrollment process, as opposed to 12 percent of people with employer-sponsored coverage and 20 percent of people with Medicaid.
Importance of Findings
An increasing number of people rely on the ACA Marketplaces for health insurance. When exploring coverage options, individuals and families are often required to navigate complex comparisons of provider networks, benefits, deductibles, premiums, and cost-sharing amounts. The substantial increase in the number of plan options contributes to suboptimal plan selections. The administrative burden of the enrollment process itself may deter consumers from signing up for coverage. Marketplaces have pursued various policy interventions to enhance the shopping and enrollment experience, such as standardizing plan design, streamlining the sign-up process, and investing in enrollment assistance. Nevertheless, this KFF survey and analysis reveal ongoing challenges for consumers. As stakeholders consider ways to enhance the Marketplaces as a source of coverage, these findings can help shape efforts to enable consumers to access plans that meet their health and financial requirements.
The analysis "Paying for It: How Health Care Costs and Medical Debt Are Making Americans Sicker and Poorer: Findings from the Commonwealth Fund 2023 Health Care Affordability Survey" by Sara R. Collins, Shreya Roy, and Relebohile Masitha for the Commonwealth Fund (October 26, 2023) examines obstacles in affording health care, medical debt, and health outcomes among a nationally representative sample of 6,121 working-age U.S. adults (ages 19–64) with and without health insurance.
Findings
Overall, about half (51 percent) of respondents shared that their family faced challenges in affording health care costs.

The majority of uninsured respondents (76 percent) struggled to afford care, while those with employer-sponsored insurance (ESI) reported the least difficulties in affording care (43 percent). Individuals with individual market coverage (either on- or off-Marketplace) fell in the middle, with 57 percent reporting affordability challenges.
Difficulty in affording care varied significantly by income level for ESI enrollees, with 56 percent of respondents with ESI and household income under 200 percent of the federal poverty level (FPL) reporting difficulty affording care, compared to 30 percent of ESI enrollees with incomes at or above 400 percent of the FPL. (Similar data for other coverage groups was not included.)

More than a third (38 percent) of respondents mentioned that these affordability barriers led them to delay or skip necessary health care or prescriptions.

A majority (64 percent) of the uninsured postponed care due to costs.
Holding insurance did not shield respondents from deferring care due to high costs: 29 percent of ESI enrollees, 37 percent of the individual market enrollees, and 39 percent of Medicaid enrollees reported delaying or foregoing care in the past 12 months.
Over half (57 percent) of adults who deferred care reported a deterioration in their health as a consequence. A decline in health was more pronounced among individual market enrollees (61 percent) and Medicaid enrollees (60 percent) who deferred or delayed care due to affordability issues.

Almost a third (32 percent) of respondents disclosed that they were currently paying off medical or dental debt, including those with insurance.

A majority (85 percent) of respondents with medical or dental debt carried $500 or more of debt; 22 percent of this group had accrued $5,000 or more. Furthermore, 36 percent of respondents with medical debt mentioned that someone in their family had deferred or avoided care due to their debt, and 78 percent reported anxiety or worry due to the debt.

Health care costs are significantly encroaching on families' household budgets and other living expenses: 57 percent of respondents reported spending 10 percent or more of their monthly household budget on health care, and 38 percent reported that health care costs hindered their ability to pay household bills including electric and heating expenses.
Importance of Findings
The Commonwealth Fund's fresh survey illustrates the persistent disparities in affordability and access between the insured and uninsured. It adds to the accumulating body of evidence that even insured patients are not exempt from the repercussions of escalating provider prices. Respondents with private insurance reported difficulties in affordability, delayed and missed care, deteriorating health outcomes, and challenges with medical debt. The authors of the study propose several promising policy reforms to enhance affordability, such as regulating aggressive medical debt collection and implementing public option plans to help curb cost increases in the commercial market. Despite reforms such as the ACA, No Surprises Act, and continuing state-led initiatives, affordability challenges and their ramifications persist.
Act, and Inflation Reduction Act have made significant progress in safeguarding consumers from the high cost of healthcare, but more extensive cost containment measures are necessary to address the escalating healthcare affordability crisis.
According to a study by Joseph Semprini, Abdinasir K. Ali, and Gabriel A. Benavidez published in Health Affairs in October 2023, Medicaid Expansion Lowered Uninsurance Rates Among Nonelderly Adults in the Most Heavily Redlined Areas. The research involved an analysis of uninsurance rates before and after the Medicaid expansion under the ACA, considering race and exposure to historical "redlining," an outlawed form of structural racism. The neighborhoods were categorized based on their racial composition and exposure to redlining, and the study compared uninsurance rates before (2009–2013) and after (2015–2019) Medicaid expansion in those areas, using American Community Survey (ACS) data coupled with corresponding redlining data derived from the Mapping Inequality project.
Key Findings
Prior to Medicaid expansion, uninsurance rates were highest in the census tracts with the most redlining activity, and lowest in those with the least exposure to redlining.
Follwing Medicaid expansion, aggregate uninsurance rates decreased significantly in redline category 4 areas, showing a relative decrease of 6.2 percentage points relative to non-expansion states.
Medicaid expansion's impact on uninsurance rates did not significantly differ by race and ethnicity within each redline category, but significant differences were found across redline categories, particularly for the non-Hispanic Black population.
The largest impact of Medicaid expansion on lowering uninsurance rates was observed in redline category 3 and 4 areas for adults with incomes below 100 percent FPL.
There was no statistically significant impact of expansion on average uninsurance rates in the aggregated census tracts with redline categories 1–3.
Significance  
The study highlights how structural racism, even in policies no longer in effect, continues to influence access to health coverage. The impacts of redlining persist despite the Fair Housing Act outlawing the practice, showing that before Medicaid expansion, uninsurance rates were highest in census tracts suffering the greatest amount of redlining. Medicaid expansion has played a crucial role in reducing uninsurance rates in communities where redlining occurred, underscoring the importance of proactive policy interventions to narrow the disparities stemming from systemic segregation. The decision of ten states not to expand Medicaid has left low-income residents living in historically redlined areas without sufficient access to coverage. It is imperative for future policymaking to confront the lingering impact of structural racism on health and coverage disparities. Stakeholders working towards health equity, whether through Medicaid expansion or other policy interventions, can benefit from the contextual framework provided by this study.